Tuna Fishing Trips in Miami & South Florida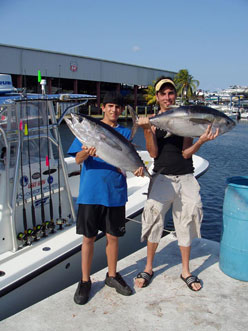 Miami and South Florida provide some of the best tuna fishing spots you will find anywhere in the world. Many different types of tunas frequent our waters, but the tuna that is most often targeted would definitely be the blackfin tuna. On our fishing trips we do occasionally catch some yellowfin tunas but I would call these incidental catches in South Florida.
The blackfin tuna we catch are typically 15 to 35 pounds. We actually hold two line class world records on my boat with a 39 lb blackfin caught on 12 pound test — Men's division and a 36 pound blackfin caught on 12 pound test — Women's Division.
Tuna Season
The hottest action for blackfins occurs in the springtime. The best three months to catch tuna would probably be April, May and June. There is also a fall run of tunas but that has been diminishing each season.
Tunas like low light conditions, so early morning and late afternoon are the best times to target them. Tunas also respond well to live chum. If we can get a load of pilchards (500 or more) and head out on a May afternoon, the tuna fishing will probably be pretty good.
Tuna Fishing Tactics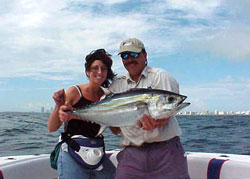 Live baits fished on the kites works well as do flatline baits. When we live chum, you can see the tunas busting the freebies. That is, you can see the tunas eating the live chum we are throwing out. At that point, it is just a matter of time until the tunas find our hooked baits. Nothing quite beats the sight of watching a school of tunas exploding on bait.
We also get a few yellowfins each year. The bite usually occurs from January to May offshore from Miami. We catch yellowfin tunas on the reef while we are targeting other fish like sailfish and kingfish. We can also target yellowfins in the Bahamas in the summer. Sometimes we are lucky enough to also find yellowfin tuna in the Gulfstream while we are dolphin fishing.
Book Your Fishing Trip Today!
To book a half day, 6 hour or full day fishing trip, give Captain Dean Panos a call on (954) 805-8231 or send us an email at [email protected]. Our boat is docked at the Keystone Point Marina in North Miami.
For more details on our fishing trips, see our charter information.